Latest News
12/3/2012
IMM helps NJ man lose 130 pounds and counting!
8/16/2012
FAQ's about IMM
Contact Us
(201) 840-8496
info@inmotionmeals.com
REAL USER TESTIMONIALS



FOOTBALL PLAYERS...
PHIL SIMMS
CBS Sports Analyst
"Ever since I stopped playing in the NFL, it has been very important to me that I stay in good physical condition. My experience has taught me that there is only one way to accomplish this goal...eat properly and exercise regularly. IN MOTION Meals has made it so easy to eat properly, I now eat at least two IN MOTION Meals every day! Not only do the meals help me stay healthy and in excellent physical shape, they taste amazing too! I would recommend IN MOTION Meals to anybody."
BRIAN CUSHING
ALL-PRO Linebacker Houston Texans
2009 NFL Defensive Rookie of the Year
"I was first introduced to In Motion Meals by a friend of mine who plays for the NY Giants. I was back home in NJ training for the upcoming 2012 NFL season and because proper nutrition is so important to my performance in the weight room, as well as on the gridiron, I jumped at the chance to use the In Motion Meals service. The first thing I noticed when my order arrived was how fresh and tasty the meals were! Usually when I am trying to eat really well, I am limited to bland, boring, and unpleasant choices. I was so pleasantly surprised how great the meals tasted, while at the same time adhering to the basic proper nutrition protocols I have used throughout my entire football career. In Motion Meals truly made eating properly enjoyable AND super convenient! Having torn my ACL this season, I know the road to recovery is going to be a long and uphill battle. To come back next year better then ever, I know I need every advantage I can get during the rehab process. In Motion Meals will definitely be a big part of my recovery. I can't say enough about the value these meals have had and will continue to have for me and I would highly recommend In Motion Meals to anyone, athlete or non-athlete alike, who wishes to improve themselves"!
JUSTIN TRATTOU
NY GIANTS Defensive End
Super Bowl Champion 2011- NY Giants
NCAA National Champion 2009 - Florida Gators
High School National Champion 2006 - Don Bosco Prep (Ramsey, NJ)
"I have been using In Motion Meals for years now and there is no doubt in my mind that it has helped me get to where I am today. I am very big on training and nutrition and I truly believe In Motion Meals is an essential part of my routine. They take out all of the guess work and you know you are getting a quality product. The more I eat their meals, the leaner and more muscular I get. If you are an athlete and are trying to reach your genetic potential, adding these meals to your regimen will yield results."
2013 NFL Draft Candidate / Tight End University of Tennessee

"In Motion Meals are a simple and easy way to eat healthy, but continue to eat everyday delicious foods. I simply warm up the meals in the microwave and grub, no nutritional thinking is needed".
Defensive Tackle - Cleveland Browns

"InMotion Meals were an invaluable resource to me while I trained for my NFL Pro Day. Every meal was balanced and altered to help me reach all my physical and mental goals. They take all of the headache out of nutrition, having the proper blend of carbs, protein and fats to help maximize the body's potential. I didn't have to waste money on junk and fast food or stress over cooking while my mind was set on making it to the NFL. The people down at InMotion Meals know athletes and they will make you the best Athlete you can be!"
LOUIS "Goodnight" GAUDINOT
2011 Ultimate Fighter Reality Show Contestant on Spike TV

"In May 2012 I had the biggest fight of my life...my UFC debut in the 125lbs flyweight class! In front of my hometown crowd in New Jersey no less. I was heavily concerned about two things...making weight and performing extremely well. I had not been 125lbs in over 18 months and was worried that if I made the 125lbs weight limit, my energy and strength would suffer. As soon as my UFC fight was made official, I immediately enlisted the help of IN MOTION Meals. The guys over at IN MOTION Meals not only provided me with the opportunity to make the 125lbs weight limit, I was in the best shape of my life with improved levels of conditioning! When most fighters are starving to make weight, I was eating at the weigh-ins! I would recommend IN MOTION Meals to anyone, athlete and non-athlete alike!"
SENSAI MUNAH HOLLAND
Professional MMA Fighter - Bellator Fighting Championships / Ring of Combat
North Plainfield, NJ

"For years, my husband and I have been cooking meals all day long on Sundays. Portioning out the meals into Tupperware containers so that we would have enough food for the week with the correct caloric amounts, protein, carbs and fat. With our work schedule and training regimen, it became difficult to continue to do this consistently. All we wanted was to find a simple way to keep up with it all. Just when we thought we were truly going out of our minds, a friend referred us to IN MOTION Meals.

My husband and I have ordered IN MOTION Meals for quite a while and have not once been displeased with the quality of the food and the delicious taste. We have found pleasure in eating healthy food choices once again. As athletes, we both appreciate that the food is preservative free and that the sodium levels are low. My husband and I enjoy the meals so much that we only shop at the grocery store these days for the barest of essentials. IN MOTION Meals have become our number one choice to eat every three hours in order to maintain a healthy lifestyle and stay fit.

Since incoporating IN MOTION Meals, I have felt less fatigue from my workouts and greater stamina. Paul and I are excited that we can maintain a healthy lifestyle, a high quality of performance in our training and still have food that tastes great and is very healthy. We both agree that the free time we now have, since we are not spending it cooking, is precious."
Professional MMA Fighter
Former Bellator Welterweight Champion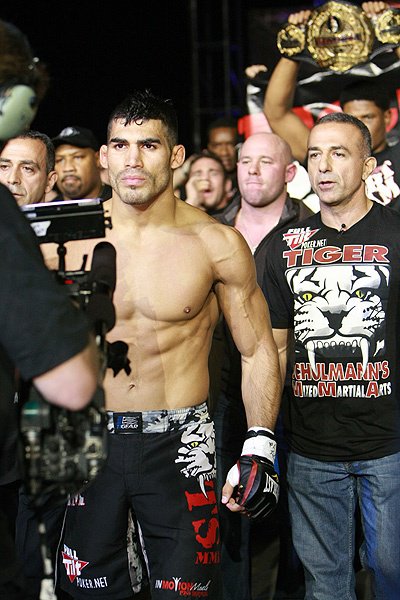 "Before I met the guys from IN MOTION Meals I thought I knew everything I needed to know about how to eat right to prepare for a fight. I was wrong. The lessons they taught me and the products they provide me have completely changed my preparation for a fight. Never before has cutting 25lbs for a fight been so easy and yet so enjoyable at the same time. Not only was making weight a breeze, but now I feel stronger and more powerful than ever! In Motion Meals and their Pro Series is a must have for any competitive athlete!"
CHARLIE "The Spaniard" BRENNEMAN
UFC Fighter

"
In Motion Meals has helped to propel my game to the next level. As your level of competition rises, it's extremely important to get every possible edge on your opponents. I am competing against the best fighters in the world in the UFC, and nutrition is as important as any training technique. With In Motion Meals and their Pro Series, I'm able to combine the best nutrition with the best training and you can't beat the convenience!"
Mixed Martial Arts Instructor
"
It's been a very long journey to get where I am today. Diet and exercise are the two key components to cutting weight, staying in prime physical condition, and performing at the level that I am expected to. My coaches and trainers cover the exercise component. Ben and the In Motion Meals team cover my nutrition component and have completely revamped my diet. They gave me a nutrition plan that is equal parts EFFECTIVE and EASY TO FOLLOW! Presently I am pursuing a future with the Army's Special Forces (Green Berets). To make it into the Green Berets will be one of the most difficult physical and mental tasks I have ever endured. In Motion Meals has helped give me the confidence that my mind & body will be up to the test!!
Thank you Ben & In Motion Meals."
FITNESS, BODY BUILDING & POWER LIFTING COMPETITORS...
MONA MURESAN
Editor & Chief - Muscle & Fitness Hers
I.F.B.B. Pro Figure Competitor
2010 NPC Team Universe Winner & 2010 NPC Jr. Nationals Winner
"When IN MOTION Meals first approached me with their concept and meal selection, I was a little bit skeptical because my lifestyle requires an extreme level of dieting that no other food company has been able to satisfy in the past. But, after speaking with IN MOTION Meals about how they prepare their meals and taking a closer look at their list of menu options, I decided I would give them a try. Let me tell you…I couldn't be happier I did! For the first time, I now finally have a company I can rely on to provide me with the essential nutrients I need, which saves me a tremendous amount of time in my own kitchen and allows me to better utilize my time in my training. The best part…the meals are not only nutritionally perfect for me…they taste fantastic as well! Saving so much time preparing my own meals has allowed me to focus on so many other areas which has allowed me to reach my personal best. I now refer all of my friends to IN MOTION Meals and I know I will be a client for life."
RON HACKASPKER
Current New Jersey, USA, and World Record holder in "raw" powerlifting
IFBB Professional Body Builder
2011 NPC Bantam-Weight Nationals Champion
67.5 kg USAPower Lifting National Champion - 2010 & 2011
NPC Team Universe Bodybuilding Bantamweight Champion - 2004 & 2010
"As a professional trainer who works with high-level amateur and professional athletes, me included, I cannot stress enough the importance of proper nutrition. Unfortunately, proper nutrition happens to be the biggest challenge for most athletes and people in general to get on a consisten basis. IN MOTION Meals has solved this dilemma and has become an incredible asset for both my clients' success and I. It's convenient, affordable and it tastes so good, all of us actually look forward to eating our highly nutritious meals! I highly recommend IN MOTION Meals to anyone who is serious about performance and overall health."
MIKE VALENTINO
202lbs Mr. Olympia Finalist 2010

"Three years ago I began using In Motion Meals and their Pro Series as part of my day to day eating program and carried that thru to prepare for the 2010 Mr. Olympia competition. In Motion Meals has been the single most important "training tool" I have added to my regimen."
DOCTORS, EXPERTS, & COACHES...
GLADYS DITROIA
Professional Weight Management Coach, Wyckoff NJ

"As soon as I incorporated IN MOTION Meals into my diet I noticed an instant change in my energy levels, fitness, and my physical appearance. With IN MOTION Meals, eating healthy never feels like dieting anymore. In fact, it's an easy and enjoyable way of life and a valuable asset to help me accomplish my personal goals. I plan on using IN MOTION Meals to help me stay in competition shape for as long as I continue to compete. However, I plan on using IN MOTION Meals for the rest of my life to help me stay fit and healthy."
Owner Fort Bend Corrective Health Center, Missouri City Texas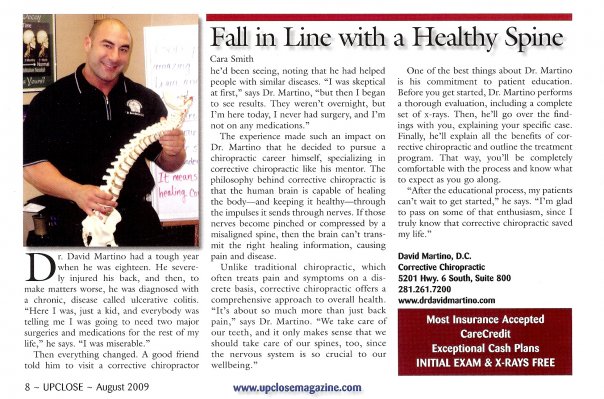 "Chiropractic Care is more than just cracking backs. Chiropractic Medicine is rooted in the balance of your mind, body, and spirit. Nothing in life can help you take control over each of these three components like your daily eating habits. In Motion Meals has found a way to make eating well easy, enjoyable, and affordable. I recommend In Motion Meals to everyone to help maintain a superb level of heath and vitality thru the power of proper nutrition. As always I will continue to refer patients, friends, and family to In Motion Meals."
KENNETH A. LEVITSKY, M.D.
Orthopedic Surgeon
Garden State Orthopedics of Mahwah, Hoboken, & Fair Lawn NJ
"
As an Orthopaedic Surgeon, my practice involves the care of athletes with athletic injuries, exercise enthusiasts, and many who are focused on fitness, weight reduction, and the optimization of their cardiovascular status. Proper nutrition, in conjunction with an exercise protocol, is a critical factor in achieving weight reduction and cardiovascular health. In Motion Meals are delicious sources of fresh and healthful high quality, high protein and low fat nutrition. They have become a part of our household diet and I recomend them without reservation to my patients."
MARTIN ROONEY
Au

thor, Best Selling Book, Training for Warriors
Trainer to athletes of the NFL, UFC, NBA, MLB, WNBA
"The biggest challenge I have witnessed, as both a coach and competitive athlete, has been adhering to proper nutrition. Whether it is a lack of time, not enough knowledge or just poor discipline, most people don't eat right and that hurts both performance and well being. Simply put, IN MOTION Meals has solved that problem. With optimal nutrition, great taste, a wide selection and an affordable price, there is no longer any excuse not to eat well. I have and will continue to recommend these meals to anyone, athlete and non-athlete alike, looking to take control of their diet and eating habits."
EVERYDAY PEOPLE JUST LIKE YOU...
Professional Musician, Lounge Singer, and Musician Instructor
"
In Motion Meals has helped me shred my body fat, while keeping my cravings minimal. Ben has always been available to answer any questions that I have regarding my diet and In Motion Meals has shown me the importance of eating real food to satisfy my body's nutritional needs, rather than consuming meal replacement protein bars, powders, and shakes.
When Ben and I spoke, he gave me some nutrition advice to follow. At the time I weighed 155.5lbs. When I weighed myself again only three weeks later I was 150lbs! That's a lot of weight loss for a person my size in only three short weeks. I know its all body fat loss too because my clothes are looser and I haven't lost any strength; I actually feel stronger! The best part...I'm not starving either. I'm eating a ton of food! Thanks again In Motion Meals!"

"As a career woman with an active lifestyle, staying lean and fit is extremely important to me.

In order to achieve the goals that I want; not only is training essential but so too is my diet.

In Motion Meals allows me to eat properly while saving me a great deal of time in the kitchen. This wonderful company makes it easy to eat healthy because the meals are so delicious! There is such a variety to choose from and they regularly add new dishes to their menu.

After ordering their food I have recommended it to many friends who live a similar lifestyle and want to eat healthy.

It's truly a home cooked meal that's the perfect portion and provides all the nutrients you need. I'd like to choose a favorite meal but I have quite a few! I'm hooked on In Motion Meals and definitely plan on continuing to be a loyal customer."

CHRISTOPHER COUTTS
Chief Operating Officer
American Institute
"Staying fit and eating healthy have always been an important part of my life. As the Chief Operating Officer of a rapidly expanding business, unfortunately the demands on my time continued to increase, leaving fewer hours in the day to focus on healthful eating. Over the past couple of years, as my spare time became less, I found myself rushing through salt and fat-laden lunches from a nearby diner or takeout restaurant. In the evenings, I was often too tired to make a healthy meal and instead ate a slice of pizza or bowl of pasta. Before long, my body felt the difference: I was tired, sluggish and starting to put on extra pounds.

The challenges of staying fit while being a successful businessman have been solved by IN MOTION Meals. I now use IN MOTION Meals everyday for either lunch, dinner or both, depending on my schedule. They taste amazing, they are simple to reheat...either in a microwave or oven...and the consistency of quality and taste never waivers. Since I've incorporated IN MOTION Meals into my lifestyle, I never have to worry about finding something healthy when I'm hungry and I always feel great for hours after eating. I have a lot more energy throughout the day and in my workouts as well. As a result, I am leaner, stronger and never feel hungry which allows me to stay healthy while still growing my company. I would recommend IN MOTION Meals to anyone looking to improve the health and quality of their life!"

FRANK GOLDEN
"Five weeks ago my wife and I started on In Motion Meals and we couldn't be happier with the results! The meals are off the hook! In the five weeks since starting In Motion Meals I have lost 28.5 pounds! In Motion Meals has become a staple in my lifestyle because the meals taste so good and I don't feel like I'm suffering to control my diet or depriving myself of great tasting food. I am currently involved in MMA training and In Motion Meals in conjunction with my MMA cage fighting is the best one-two punch to getting me in amazing physical shape. I want to thank In Motion Meals and everyone on their staff for giving me the tools I need to reach my goals!"
HEATHER C.
Registered Dietitian / Sports Nutritionist
"IN MOTION Meals provides the perfect balance of optimal nutrition, great taste and convenience in each signature dish. Healthy eating can be really challenging if you don't have the time or kitchen skills to prepare nutritious, well-balanced and satisfying meals. By creating recipes using whole grains and lean protein they lower the glycemic index of the meal - making you feel fuller and more satisfied longer. This is also great meal quality for diabetics looking for better blood sugar and carbohydrate control."
Barney G.
Old Tappan, New Jersey
"I love all of the meals I get from In Motion Meals. I have been ordering from IN MOTION Meals for almost a year now - and could not have made a better choice. I have tried other pre‐prepared foods in the past, but none of them compare with IN MOTION Meals for three main reasons… 1. The food tastes great. No one would even know this was a frozen meal. 2. I am not hungry in between meals. The meals are way more substantial than other frozen meals - and pack all the nutrients I need in my diet. 3. The IN MOTION Meals teamis wonderful to do business with. They deliver exactly on time and always offer an open ear if I should have any questions or concerns. Also, IN MOTION Meals has always been totally open to new ideas and suggestions for making an already outstanding product even better. Try doing that with other more popular alternatives! IN MOTION Meals have a client for life in me."
Annette M.
Haskell, NJ

"I am not one to embrace the "cooking experience," yet I am dedicated to staying fit and eating healthy. After trying my first few IN MOTION Meals I was hooked. I eat the meals for lunch and dinner no less than 5 days per week. Since I started using IN MOTION Meals I am more than capable of maintaining a healthy weight without much effort thanks to In Motion Meals. Whether I am having chicken, beef, or fish I am more than satisfied with the taste, quality, and quantity. I started ordering the healthy soups for my Mother. She is an old school Italian woman who is quite an excellent cook herself and she loves the soups! She shares them with her senior citizen lady friends and they all love them. I don't think I can express enough how pleased I am to be an In Motion Meals client. I recommend IN MOTION Meals to all of my friends and family members."


James P.
Hackensack, NJ
"IN MOTION Meals is a life saver! I work crazy hours and don't have the time or patience to cook healthy meals for myself. IN MOTION Meals make it easy and affordable for me eat healthy and I feel better than I have in years. I highly recommend them."
Police Officer
As a 12-year veteran of law enforcement, the combination of my schedule and countless hours in the squad car or at my desk, has made it a challenge to maintain a healthy and balanced diet.

Two years ago I enrolled in Mixed Martial Arts training classes to help me get in better shape.

I learned through my instructor that maintaining a proper diet is as important as my training.

I also learned that improving my eating habits could drastically improve my ability to perform better on the mat.

As I tried to prepare healthier meals for myself, I found myself either buying too much food or having left over's go in the garbage.
6 months ago I had to have hip surgery due to some torn cartilage and a bone spur and I was bed ridden for two weeks. I knew enough to know what I ate everyday was crucial to the healing process. I talked to a few guys at the martial arts gym concerning their diet and found out the Pro MMA guys were eating IN MOTION Meals. I immediately thought to myself, "If these top athletes were eating these IN MOTION Meals, then they had to be good enough for me."
Since incorporating IN MOTION Meals into my daily lifestyle, I have healed and returned to full duty as well as my MMA training. It wasn't until I went for my annual physical and had some blood work done that I realized how much IN MOTION Meals has impacted so many incredible positive changes! I had cut my triglycerides over 60% from 320 mg/dL to 119 mg/dL in less than a year! My physician was amazed and I explained the IN MOTION Meals products. I can honestly say at age 36, I have never felt and performed better!